Blogi Esittelyssä viimeisimmät mainosvälineet - Kaulanauhat USB muistitikulla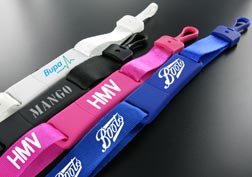 Koska kaulanauhoja on enimmäkseen käytetty henkilöllisyyskorttien, sekä henkilökohtaisten tarvikkeiden, kuten pillion ja avainlenkkien pidikkeenä, niistä on tullut myös suosittu väline markkinoinnille ja myynninedistämiselle.
Tyypillinen kaulanauha on nauha, jonka päässä on muovitaski henkilökorttia tai henkilökohtaisia tavaraoita varten. Niitä on useissa eri väreissä, joskin kirkkaat värit ovat yleisiä
Ne ovat kevyitä, halpoja ja niillä on tärkeitä käyttötarkoituksia:
Markkinointi ja myynninedistäminen - Kustomoitu logollinen mainoskaulanauha custom logo promotional lanyard on halpa ja tehokas markkinointimerodi, jolla saat näkyvyyttä brändillesi ja yrityksesi markkinoinnille. Messut ovat yleinen paikka, jossa näet ihmisiä kävelemässä kirkkaan väriset kaulanauhat kaulassaan, yrityksen nimellä tai logolla varustettuna.

Muita tapahtumia, jossa voit jakaa logobrändättyjä kaulanauhoja mainostaaksesi yritystäsi ovat konfferenssit, hyväntekeväisyystapahtumat, juhlat, jne.

Antamalla asiakkaillesi kaulanauhoja yrityksesi logolla, yrityksesi saa paljon näkyvyyttä brändilleen, sillä ihmiset pitävät sitä kaulassaan. Ja koska kaulanauhat ovat käytännöllisiä, useimmat jatkavat sen käyttöä myös konferenssin jälkeen.


Nimilapun ja työpaikan henkilökortin pidike – Kaulanauhat sopivat loistavasti myös yritystern henkilökorttien käyttöön. Ensinnäkin, ne parantavat turvallisuutta, sillä henkilökunta voi tunnistaa ilman kaulanauhoja liikkuvat luvattomat ulkopuoliset nopeasti.

Toisekseen, se parantaa kanssakäymistä työntekijöiden välillä (etenkin suuryrityksissä) sekä työntekijöiden ja vierailijoiden välillä, koska työntekijän nimi on selvästi näkyvillä.
Kuten huomaat, kaulanauhat ovat suosittuja, koska ne ovat käytännöllisiä. Kuvittele siis, kuinka paljon suositumpia ja käytännöllisempiä niistä tulle, kun niihin liitetään USB-muistitikku.
Kuten tiedät, USB muistitikut ovat oivia välineitä tiedostojen, kuten valokuvien, videoiden, esitelmien ja kaikenlaisten dokumenttien tallennukseen. USB-muistitikkujen avulla voit helposti ladata ja jakaa tiedostoja ystäviesi, työtovereidesi tai perheenjäsentesi kanssa.
Saammeko esitellä Event Seriesin Flashbayltä
Event Series on viimeisin logo brändätty USB-muistituote Flashbayltä. Se yhdistää USB muistitikun ja ennestään tutun kaulanauhan.
Flashbayllä on patentti mekanismille, joka käyttää harvinaista maamagneettia, jonka avulla USB-muistitikku ja muut siihen kiinnitetyt tavarat saadaan nopeasti irrotettua.
Tämä hieno mekanismi saa muistitikkupään irtoamaan helposti kaulanauhasta, jos se sattuisi vahingossa jäämään kiinni johonkin.
Flashbay tarjoaa näitä monissa eri väreissä ja sekä USB-muistitikkuun, että kaulanauhaan voidaan printata yrityksesi logo ja slogan.
Oletpa antamassa niitä asiakkaillesi, tai työntekijöillesi henkilökorttien pidikkeiksi, niin Event Series kaulanauha USB tuotteet Flashbayltä So, whether you choose to hand them out to customers and prospects as promotional gifts or make your employees wear them as ID badges, the Event Series lanyard usb products from Flashbay saavat heidät varmasti iloisiksi.
Mainoskaulanauhoja USB muistitikulla